June 14, 2010
Athena and John's Wedding at the Essex Yacht Club in Essex CT
"You're the real deal" John wrote in his heartfelt letter to Athena, read in their ceremony last Saturday in Essex in a wonderfully warm and fun Connecticut shore wedding.  Athena and John are a great couple and their wedding day really came together beautifully.
In her letter to John, Athena talked about how she'd been thinking about this day and planning her wedding for a long, long time.  Athena grew up in Essex CT (aka, the Best Small Town in America) and wanted her wedding outdoors in the Essex park overlooking the water.
So, precisely at 3:45pm, the downpour stopped, and they held their ceremony outdoors–and it was just great.  The reception at the Essex Yacht Club under a Sperry Tent was also perfect..and the sun shone throughout the cocktail party.
The nautically-inspired red, white, yellow and blue theme was striking and classic coastal New England (the blue striping reminded me of the cabanas at the Chappy Beach Club on Martha's Vineyard).  And the guys' Nantucket Red pants (and Nantucket Red cocktails) rounded out the New England feel.
Everyone got ready at our favorite, The Griswold Inn.  We really enjoyed working again with our friends Lindsay and Talia from Sixpence Events who, in addition to all their planning, also design the stationery, seating cards and paper for their wedding.  The preppy flowers were from Hana Floral Design of Mystic.  And DJ Rob played just the right playlist for dinner and dancing to make everyone happy.
Athena and John, fantastic wedding…thanks so much for having us document it for you!!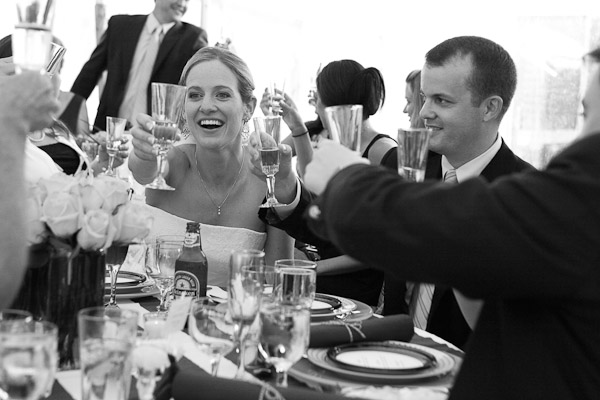 4 responses to "Athena and John's Wedding at the Essex Yacht Club in Essex CT"